Avoid Water Damage with Professional Toilet Leak Repair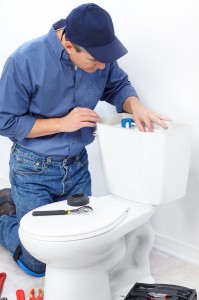 If a toilet in your home is leaking from its base or constantly overflowing, it's time to call a plumber. The longer you put off calling for toilet leak repair, the more likely it is that you'll have additional costs to contend with. My San Mateo Plumber Hero helps homeowners everyday tackle leaky toilets, clogged toilets, and other kinds of toilet repair service. Over the years, we've learned a thing or two about toilets – an occupational hazard – that we'd like to pass along to you.
Toilets Shouldn't Shake
A toilet that works well stays put. If the toilets in your home are shaky when you sit on them, this is the perfect recipe for a leak to form. The commode may simply need the bolts tightened to the ground or it may need to be replaced. When a toilet is placed well over the drain pipe, water can leak from the base and cause flooring to rot. Fix this problem fast for best results.
You're Wasting Money
Some toilet leaks aren't as obvious in the sense that you can see water pooling around the base. Instead, the leak is between the tank and the bowl. Signs that you have this kind of leak is a toilet that runs all the time or flushes at random intervals. You can test for a leak by putting a small amount of food coloring in the tank and see the water in the bowl turns that color. If it does, you have a leak.
Many people ignore these kinds of leaks because they aren't going to cause water damage. They are also easier to live with. However, what you might not be able to live with is how much this kind of leak is costing you in wasted water.
Call San Mateo Plumber Today!
No matter what kind of toilet leak repair you need, it's important to take care of it as soon as you can. Call My San Mateo Plumber Hero and we'll get a plumber to your home today to fix the problem inexpensively and correctly – guaranteed!